OccHealth Concepts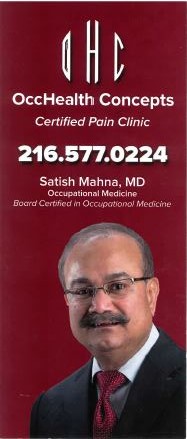 Satish Mahna, MD is delighted to announce the Opening Of Our New Office at Grace Hospital (Corporate Headquarters) in Tremont, Ohio.
We will be providing: Occupational Medicine Services for the Ohio Injured Workers including treatment of the work injuries (POR); Pain Management; Permanent Partial Disability Exams (C92) and Increase (C92 A); Permanent Total Disability Exams; Additional Allowance Exams; Medical File Review/Reports; Independent Medical Exams (IME); Alternative Dispute Resolution Exams (ADR IMEs). In addition, we will also provide treatment for the Personal Injury/Motor Vehicle Accident cases.
Satish Mahna, MD has been providing services to the Ohio Injured Workers since 1989. Our other offices are located in Bedford Heights, Elyria, Willoughby, Austintown (Youngstown), and Warren.
We do work with the Attorneys involved on behalf of their clients, offering thorough assessment of the work and personal injury problems.